National Liberty Alliance Business Cards
Complete the form below and pay with PayPal or your Credit Card.
NOTE: The ship to address cannot be a P.O. Box.
Business Card Prices includes shipping to the lower 48 states*
*If you need cards shipped to Canada, Alaska or Hawaii, I will invoice you for the additional shipping amount.

250 cards $46.99
500 cards $56.99
NOTE: If your email or name does not match your PayPal account, please let me know (in the shipping address field) so I can match the order to the payment)
National Liberty Business Card

Grand Jury Business Card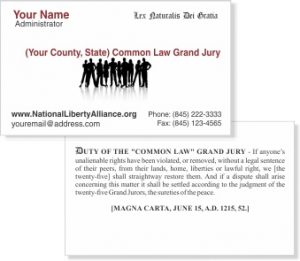 Complete the form and submit, then pay using PayPal or Credit Card
STEP 1 - COMPLETE AND SUBMIT FORM
NOTE: The information will be COPY & PASTED onto the card exactly as you enter it