High Quality Business Cards Shipped Directly to You
Great Quality Cards
Your Business Card Guy uses professional weight card stock (14pt) or choose the extra thick option (16pt) along with your choice or corner and finish make sure your cards look and feel great.
These business cards will impress you and your clients, and we deliver this level of quality at an amazing price shipped directly to you.
Pricing*
250 - $49.99
500 - $54.99
1000 - $59.99
2500 - $99.99
Need a Logo?
It's important to have your logo on your business cards. Your logo is the anchor for your branding. If you have one, we'll need it in a high res print quality or vector (.ai, .eps, .cdr) version. If you don't have a logo, we can create one for you. Some examples and contact me here.
Color/Fonts?
If you have a business card now or we're matching other marketing materials we need to know what colors and fonts you use so we are matching your current branding/marketing efforts. We CAN do something new, but it's best to match things up if possible.
Current Design?
If you have a business card that you like, we normally can match up the design. If you have a print ready file or digital proof that works best, but we can often work from high quality scans or even smart phone photos.
New Design
If you want a totally new business card design, we will work with your ideas, logo, fonts, and examples or other cards you like to create a few concepts for you. From there, you can request edits until the card is perfect. Contact us for a quote.
Business Card for Allstate American Family and Farmers Insurance Agents.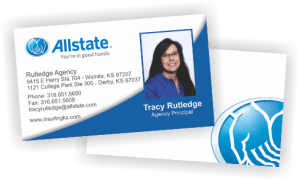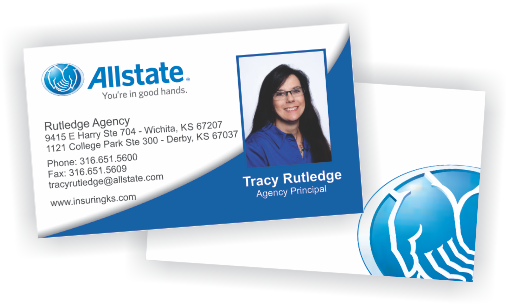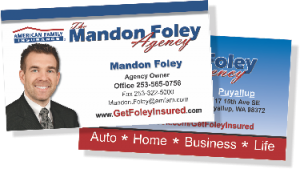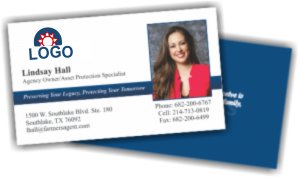 Our Customer Service Pledge:
You will be treated like our business depends upon it, because it does!